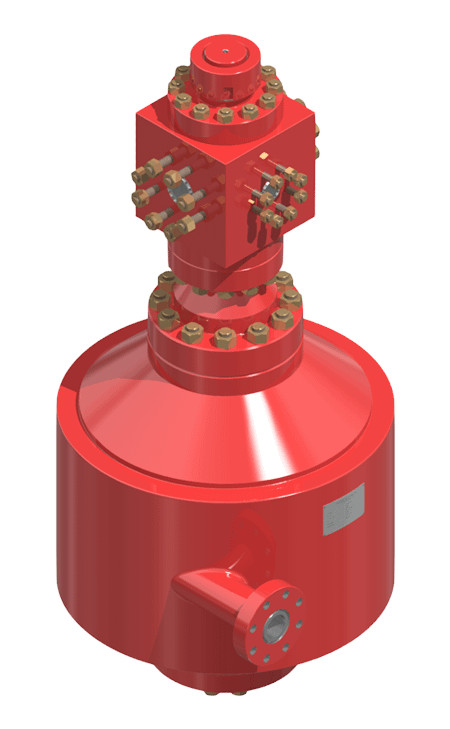 Innovative Sand Separation Solutions enabling oil and gas producers to eliminate the challenges associated with downstream erosion of equipment.
Download Flyer
Practical sand separation solutions delivered by CANSCO in cooperation with SOS-STI Sand Separation Technology 
The Big Ball Sand™ Separator (BBS™) is a proprietary system designed to preserve the life of downstream equipment.
Utilising no internal complicated structures or sacrificial components, the BBS™ separates up to 99% of produced sand from well bore fluids. The BBS™ protects all equipment downstream (i.e. chokes, valves, separators, heaters and pipelines) from sand settling and catastrophic erosional damage, which can save the client thousands of dollars per day in cost and lost revenue. Safely and consistently preserving the life of your equipment to maximise well productivity is paramount to Cansco Production Services' mission.
The BBS™ is a simple yet robust design providing our Customers with a highly efficient spherical sand separation and filtration unit in a single package. Utilising no sacrificial components to deflect flow the BBS™ utilises our Technology Partners' patent pending design providing our Customers with.
The BBS™ Sand Separator System is uniquely designed to capture the maximum sand and solids recovery during well production operations, and during flow back and long term well testing operations, with up to 99.5% solids recovery consistently delivered in past operational installations.om heading element
Features:
Filters available in a wide range of slot sizes with filtration options as low as 105 μm at 140 mesh, offering a truly adaptable product for our Customer's specific well application.
Capable of separating up to 99% of sand from well flow.
Single or double configuration available to allow for continuous flow without having to bypass non filtered fluids.
Manifold configuration can be adapted to suit specific Customer requirements.
Skid mounted for easy transportation and installation, compact size with low mechanical maintenance. Trailer mount available.
Flexible design for use on multi well pads.
Proven Benefits:
Replaces both the traditional Cyclonic Separator and Dual Pot Sand Filter packages.
Removes the need for high-pressure water flush pumps and related water supply.
Reduces the need for sacrificial choke manifold applications.
Replaces the plug catcher.
Reduces the need for multiple spreads in low Well Flow Rate scenarios.
Reduces crew size.
99%
of the sand
Although conditions vary, we are able to recover up to 99% of the sand in conditions that our competitors struggle to get over 70%. With the addition of our filter elements we take the BBS one step further in allowing our Customers to dial in the performance of the BBS.
Effective
in high gas & liquid rate applications
The BBS™ System has proven to be effective in multiple environments including high gas content and high liquids content applications.
Robust
yet simple
The patented vessel design is robust yet simple with no sacrificial components deflecting the flow while continuing to out-perform our competition.
10,000 psi
The BBS™ receives the sand laden fluid directly from the well, at pressures up to 10,000 psi, then utilising a patented design internally separates the sand from the produced fluids. Designed to be upstream of all other equipment the BBS is meant to protect the Customer from costly erosion and the associated downtime.
BBS™ 40 Series
Key Advantages
At 10,000psi the BBS™ is meant to be your first line of defense at sand management. Protecting all downstream equipment from the costly effects of erosion the BBS Sand Filtration System is meant to take on full well bore pressure.
No sacrificial internal components to deflect flow. The patented design influences the flow creating the most effective spherical sand separator in the market for sand separation.
Engineered to allow our Customers the ability to dial in on performance the BBS™ will provide superior sand separation when compared to our competition. The patented vessel design in conjunction with the ability to install a filter element to.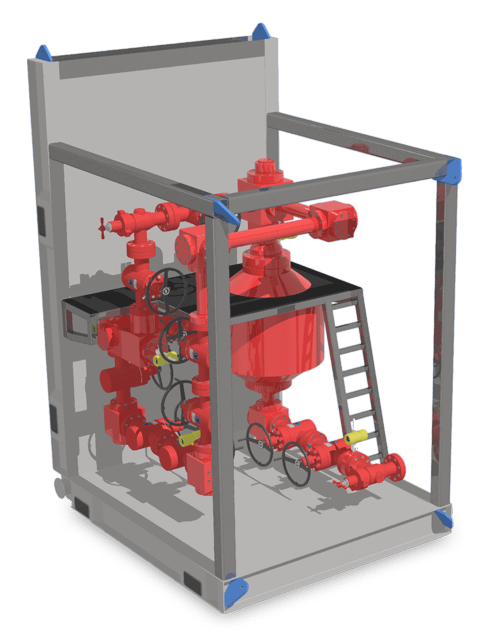 API6A 10,000 psi
PRESSURE CLASS

-20 to 350 °F
TEMPERATURE RATING

145 Gallons
VOLUME

~14,000 lbs
WEIGHT

EE-NL
MATERIAL CLASS
Engineered to be the most effective spherical sand separation device on the market
The BBS™ design implements our SOS-STI's patented approach to centrifugal sand separation exceed our Customers' expectations on removing sand from produced fluids.
The BBS™ provides the ability to install filter elements to the internal body of the sphere providing an additional level of performance for our Customers and can be readily configured for remote monitoring and control.